Aizu Athletic Stadium is located in the Aizu Sports Park in Aizu Wakamatsu City, Fukushima Prefecture.
It is a stadium where Fukushima United FC sometimes plays its home games.
In addition to the Aizu Athletic Field, the park also has the Aizu Dome, a gymnasium, and a baseball field.
Getting to the Stadium
Nearby is Minamiwakamatsu Station on the Aizu Railway Aizu Line, but this is not a direct line to Koriyama or other places.
Therefore, you should consider access by car as a basic rule.
If you want to use Aizuwakamatsu Station as a base, take the Aizu Railway Aizu Line and get off at Minamiwakamatsu Station, which is about a 20-minute walk away.
The Aizu Railway Aizu Line runs at a rate of about one train per hour, so please pay attention to the timetable.
by Car
It is about 4 kilometers from the Tsurugajo Castle area, so it is about a 10-minute drive.
From Koriyama City, it takes about 1 hour and 15 minutes using the expressway.
The parking lot at the venue may not be available on event days, so be sure to check the organizer's announcement.
About the Stadium
Location: Mondenmachioyama, Aizuwakamatsu City, Fukushima 965-0826
Capacity: 7,290 (Main Stand: 1,490 / Back Stand: 5,800)
Home team Fukushima United FC
Surface Natural grass
Opened: 2013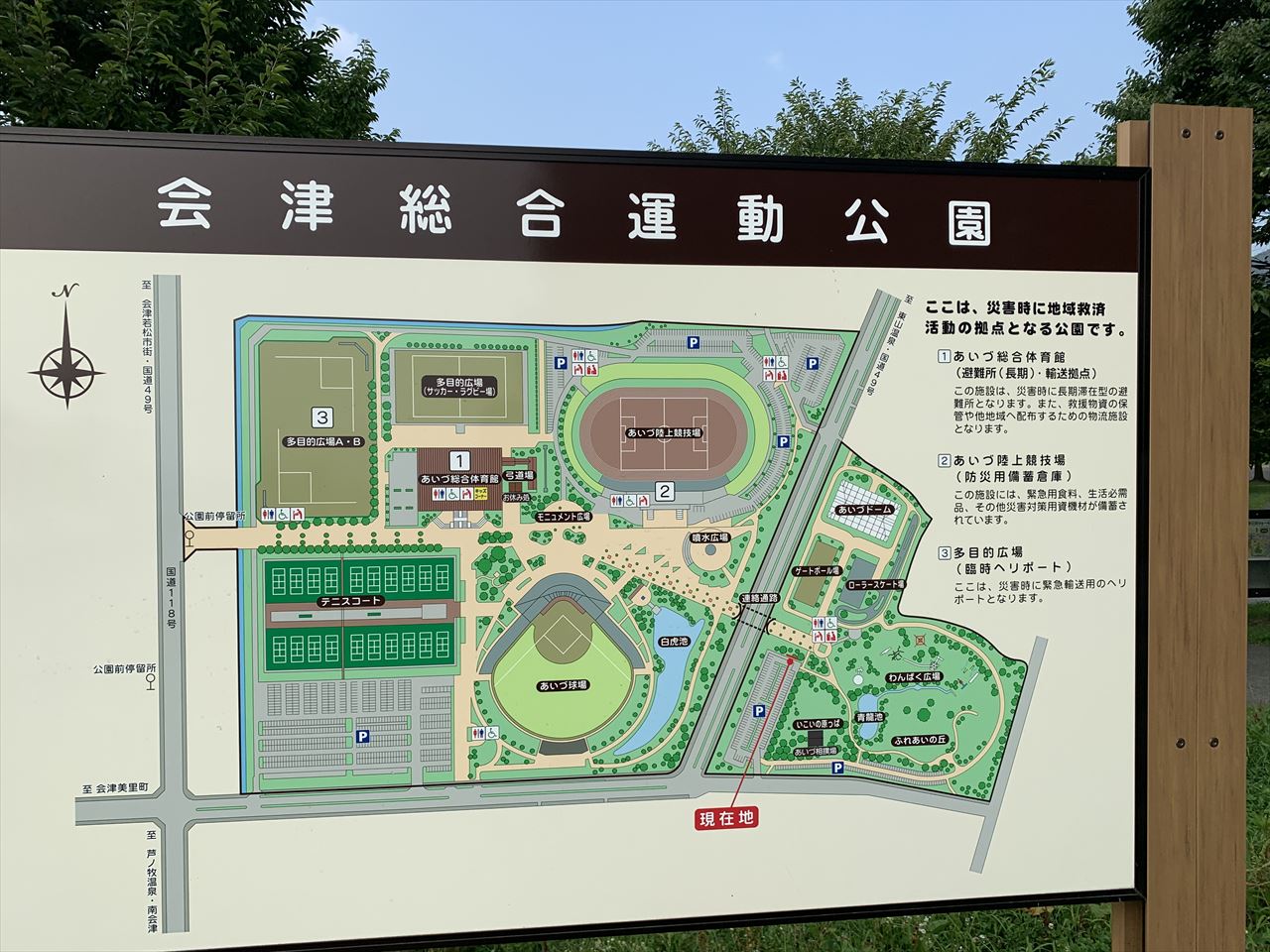 Explore Fukushima
Before your trip, we have compiled some basic information about Fukushima for your reference.
Basic information on sports teams in Fukushima Prefecture
1. "Getting there & Around" Inawashiro, Aizuwakamatsu
If you are coming to Fukushima from the Tokyo metropolitan area, you will need to use the Shinkansen.
If you take the Tohoku/Hokkaido Shinkansen, the distance from Tokyo to Koriyama is approximately 1 hour 20 minutes to 1 hour 40 minutes, and the distance from Tokyo to Fukushima is approximately 1 hour 30 minutes to 1 hour 50 minutes.
By air, Fukushima Airport is located in Sukagawa City.
Fukushima Airport is served by flights from Sapporo (New Chitose Airport) and Osaka (Itami Airport).
A limousine bus service is available from Fukushima Airport to Koriyama City, which costs 1120 yen one way and takes about 40 minutes.
To get to Aizu Wakamatsu, take the Aizu Bus from Koriyama, which takes about 1 hour and 15 minutes. By car, it will take about one hour if there is no traffic jam.
2. "Where to Stay" in Inawashiro, Aizuwakamatsu
In the Inawashiro area, there are more pension-like lodgings, and in Aizu Wakamatsu, there are more ryokan. In the Goshikinuma area, you can also stay at hotels, including high-grade ones.
Here is a selection of hotels in the Inawashiro and Aizuwakamatsu areas.
3. "What to Do & See" in Inawashiro, Aizuwakamatsu
When it comes to sightseeing in Fukushima, there are historical attractions such as Tsurugajo Castle and the Byakkotai Memorial Museum in the center of Aizu Wakamatsu, nature attractions such as Goshikinuma, and resorts such as Hawaiians in the Iwaki area.
The following is a selection of sightseeing spots in the Inawashiro and Aizuwakamatsu areas.
4. "What / Where to Eat" in Inawashiro, Aizuwakamatsu
One of the most famous foods in Fukushima is Kitakata Ramen.
In Koriyama, there is also a local gourmet cream box.
It is also famous for its peaches, and depending on the season, you can buy peaches at direct sales points.
Let's visit Fukushima and enjoy Fukushima's specialties.