Kurashiki Sports Park Stadium is nicknamed Kurashiki Muscat Stadium, after the grape "Muscat of Alexandria," a specialty of Okayama Prefecture. The stadium has hosted official professional baseball games, and the Tohoku Rakuten Golden Eagles have been holding their fall camp there since 2011.
It is located in Okayama Prefecture's Kurashiki Sports Park, and in addition to the stadium, there are also auxiliary baseball fields and tennis courts in the park.
Getting to the Stadium
Kurashiki Muscat Stadium is located between Kurashiki City and Okayama City, and is easily accessible by train from either.
Train
It takes 4 minutes from JR Kurashiki Station to the nearest station, Nakasho Station, and the fare is 190 yen.
It takes 11 minutes from JR Okayama Station to Nakasho Station, and the fare is 240 yen.
From the south exit of Nakasho Station, take a right on Muscat Street and you will find a hospital called Kurashiki Sweet Hospital. The road curves there, so just follow the road and you will see the stadium in front of you. It will take about 8 minutes on foot.
About the Stadium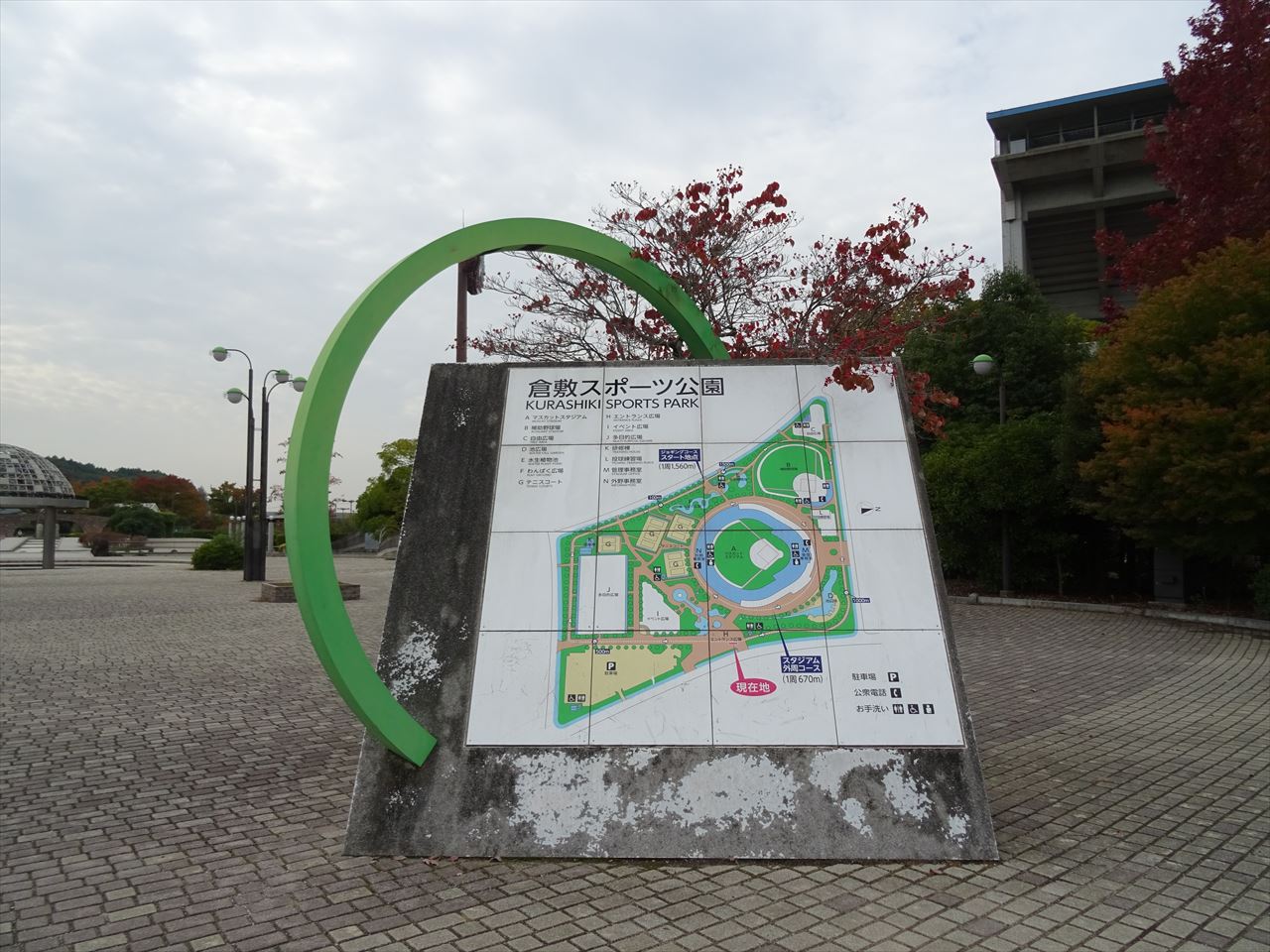 Kurashiki Muscat Stadium boasts a ground area of over 15,000m2, making it one of the largest in Japan. The foul zone in the outfield is particularly large, giving the defenders an advantage. However, the field is far from the seats, so it lacks a sense of realism.
Location 350-1 Nakasho, Kurashiki City, Okayama 710-0016, Japan
Capacity: 30,494
Opened in 1995
Explore Okayama
Travel Tips & Information
Here is the basic information about Okayama as a reference for planning your trip.
Professional Sports Teams in Okayama prefecture 
1. "Getting there & Around" Kurashiki
If you are coming from the Tokyo metropolitan area, etc., you can basically take the Tokaido or Sanyo Shinkansen to Okayama Station, and then change to a conventional train to get to Kurashiki.
If you are using a night bus, check out the buses that go to Kurashiki after Okayama Station.
Here is a guide on how to get to Kurashiki and how to get around in Kurashiki.
2. "Where to Stay" in Kurashiki
Basically, the most convenient places to stay in the Kurashiki City area seem to be around Kurashiki Station or in the Kurashiki Bikan Area.
We have picked up hotels mainly in Kurashiki City.
3. "What to Do & See" in Kurashiki
In Kurashiki, you can take a ride on a riverboat in the Kurashiki Bikan Area, or take your time to enjoy the Ohara Museum of Art, which houses world-famous artworks.
Other sightseeing spots around Kurashiki City are also available.
4. "What / Where to Eat" in Kurashiki
Let's eat Kurashiki's famous gourmet food such as Bukkake Udon and Kibidango.
The following is a list of Kurashiki's gourmet foods and restaurants in the city.