Hanazono Central Stadium is a baseball stadium located on the grounds of Hanazono Central Park in Higashi Osaka City, Osaka Prefecture. In addition to Hanazono Central Stadium, the park contains Hanazono Central Park Ground 2, Hanazono Rugby Stadium, and other venues where events are held.
Hanazono Central Stadium is the home stadium of the 06BULLS, a Kansai Independent League team.
Getting to the Stadium
The closest station to the Hanazono Rugby Stadium is Higashi Hanazono Station. There are two exits from Higashi Hanazono Station, North and South, and as the sign says, the rugby field is the North exit. The rugby field is about a 10-minute walk from the north exit.
About the Stadium
Location: 1-1-43 Matsubaraminami, Higashiosaka City, Osaka Prefecture
Capacity: 1,600 
Home team: 06BULLS
There are seats in the area behind the back nets, but this is a stadium without a roof, even behind the back nets.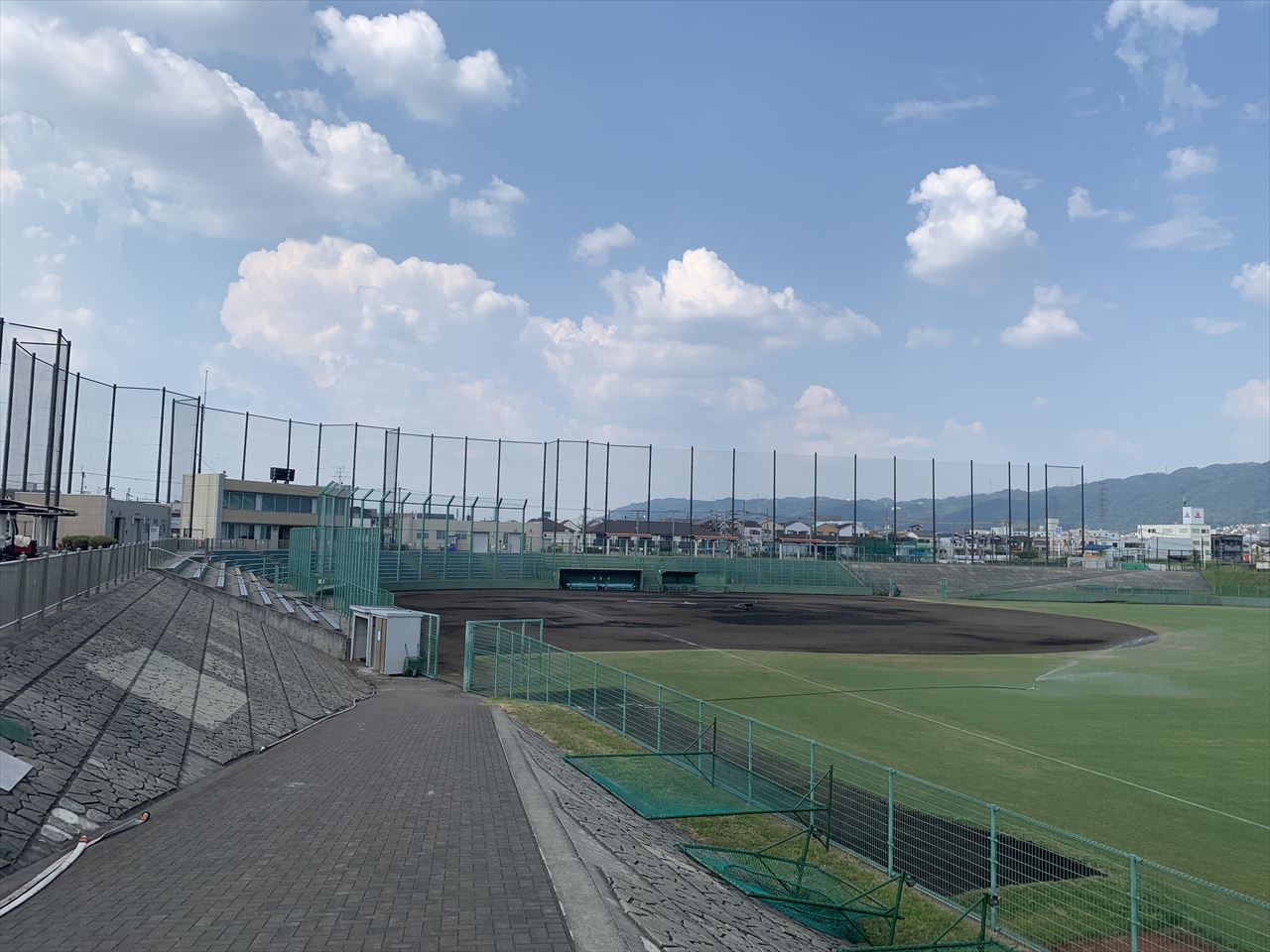 About Hanazono Central Park
As rugby fans know, the Hanazono Rugby Stadium is where the National High School Rugby Football Tournament is held. Outside the rugby field, there is a stone monument to the winning schools of the past. It might be interesting to look for your prefecture's high school here.
The stadium has been completely renovated for the Rugby World Cup, and there is a large stone monument in front of the stadium, similar to Stonehenge in England.
There is also a museum inside the rugby stadium, so it would be interesting to visit this area as well.
Explore Osaka
Travel Tips & Information
Here is the basic information about Osaka as a reference for planning your trip.
Professional Sports Teams in Osaka
1. "Getting There & Around" Higashi Osaka, Kadoma
Higashi Osaka City and Kadoma City are more like Nara Prefecture. For example, Higashi Hanazono Station, where the Hanazono Rugby Stadium is located, is about 30 minutes away from Namba Station in Osaka on the Kintetsu Line, and about 30 minutes away from Kintetsu Nara Station.
Therefore, this area offers a wide range of sightseeing options if you consider the combination of sightseeing spots and research the train lines to plan your itinerary.
2. "Where to Stay" in Higashi Osaka, Kadoma
There are not so many hotels in this area.
If you are planning on sightseeing, you will probably want to stay in Osaka City.
You can find hotels anywhere in Osaka City, but especially in the Umeda and Namba areas. The convenience of hotels varies depending on the venue you are going to watch the game at, so it is recommended that you choose a station that is easy to get to and book a hotel.
3. "What to Do & See" in Higashi Osaka, Kadoma
If you go to Osaka City, you will find many places of interest such as Osaka Castle, Dotonbori, Tsutenkaku, and Universal Studios.
Higashi-Osaka area is close to Nara, and Higashi-Hanazono Station, the closest station to Hanazono Rugby Stadium, is only about 30 minutes away from Kintetsu Nara Station.
Therefore, you can visit Osaka and Nara at the same time, but it is difficult to visit all of them in one night and two days, so please make a reasonable itinerary while checking the convenience of transportation.
4. "What & Where to Eat" in Higashi Osaka, Kadoma
Osaka is famous for its takoyaki (octopus dumplings), kushikatsu (skewered pork cutlets), okonomiyaki (savory pancakes), and pork buns from 551 Horai Horai.
As a large city, there are many restaurants.
Find a restaurant that suits your taste and try it out.