Fukuoka PayPay Dome is the home of the Fukuoka SoftBank Hawks. Fukuoka Dome is the largest venue in the prefecture, so it has hosted concerts by many big-name artists.
About the Stadium
The seating area of this stadium is on one level, and the second and third level is for premium seats such as suites, etc.
Address: 2-2-2, Jigyohama, Chuo-ku, Fukuoka, Fukuoka,
Capacity: 36,723
Home Team: Fukuoka SoftBank Hawks
Dugout: Hawks | 1B,  Visitor | 3B
Opened: April 2, 1993
Getting to the Stadium
By Bus
If you want to go to Fukuoka PayPay Dome, you can take a bus rather than a train to get closer to the stadium. On game days, direct shuttle buses are available from the major areas of Tenjin, Hakata Station, and Fukuoka Airport.
From Tenjin
Bus Stop (departure):1A Tenjin Expressway Bus Terminal
Bus #: 300, 301, 303 and W1
Bus Stop (departure): 11 Tenjin Shintencho Iriguchi
Bus #: 77
From Hakata Station
Bus Stop (departure): 6, 1F Hakata Bus Terminal
Bus #: 306
Bus Stop (departure): A, Hakata Ekimae
Bus #: 300, 301, 303, and 305
From Fukuoka Airport
Bus Stop (departure): Fukuoka Airport Domestic Terminal South
Bus #: 139
Get off at "Pay Pay Dome Mae," "Kyushu Iryo Center," or "Hilton Fukuoka Sea Hawk Mae." *It depends on which bus/route you take.
By Subway
From Hakata, Tenjin, or Fukuoka Airport Station, take the Fukuoka City Subway Kuko Line and get off at "Tojinmachi Station." It takes about 15-20 minutes to walk to the stadium.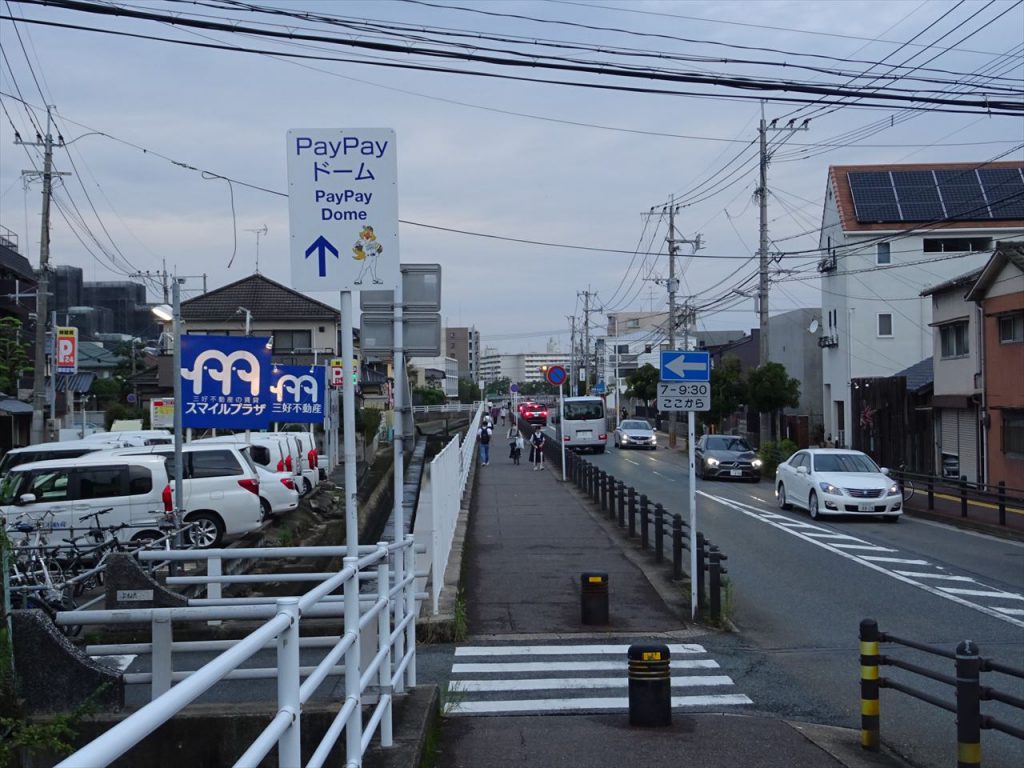 Explore Fukuoka
Travel Tips & Information
Here is brief information about this city. We hope it will help you in planning your trip.
Professional Sports Teams in Fukuoka prefecture
(1)"Getting There & Around" Hakata, Fukuoka
Fukuoka City is the largest city in Kyushu.
To get to Fukuoka from the Tokyo area, it takes 1 hour and 30 minutes to 2 hours by plane and about 5 hours by Shinkansen Line. The Fukuoka/Hakata area has a well-developed bus system, so it is a convenient city to use the bus. Larger venues can be reached by taking the train to the nearest station and walking.
(2)"Where to Stay" in Hakata, Fukuoka
Hakata is a big city, so there are many choices, from high-class hotels like Hilton, Grand Hyatt, and Hotel Okura to economy hotels where you can stay at a lower price. High-class hotels are represented by 
(3)"What to Do & See" in Hakata, Fukuoka
The Fukuoka/Hakata area is a large metropolitan area with many shopping malls, but it is not an area with many so-called "tourist spots. However, the city reminds us somewhat of the San Francisco Bay Area, and it is a beautiful place to enjoy the ocean scenery, food, and games, etc.
(4)"Where & What to Eat" in Hakata, Fukuoka
One of the dishes you must try when you come to Fukuoka is Tonkotsu Ramen (known as Hakata-Style, Pork bones broth). The city is also famous for its motsunabe (Beef, Pork offal pot), Mizutaki, and its fresh seafood.