Tokyo Dome is one of the most famous baseball stadiums in Japan. It is the home of the Yomiuri Giants, the most famous professional baseball team like the New York Yankees in MLB. It is also the stadium where Ichiro Suzuki played his last game in the MLB Opening Series in 2019. 
Getting to the Stadium
The train is a convenient way to get to Tokyo Dome. The location is like being in the center of Tokyo. The nearest stations to Meiji Jingu Stadium are "Suidobashi Station" on the JR Sobu Line and "Suidobashi Station" on the Mita Subway Line and "Korakuen Station" on the Marunouchi Subway Line and Nanboku Line.
You can take the JR Sobu Line from Akihabara Station or Shinjuku Station. Tokyo Dome is located right next to the JR line or subway station, and you can see it from the station. You won't get lost.
About the Stadium
The seating area of Tokyo Dome is made up of two levels. However, there are premium seats, such as suites, between the first and second-floor seats.
Address: 1-3-61, Koraku, Bunkyo-Ku, Tokyo,
Capacity: 47,000
Home Team: Yomiuri Giants
Dugout: Giants | 1B, Visitor | 3B
Opened: March 18, 1988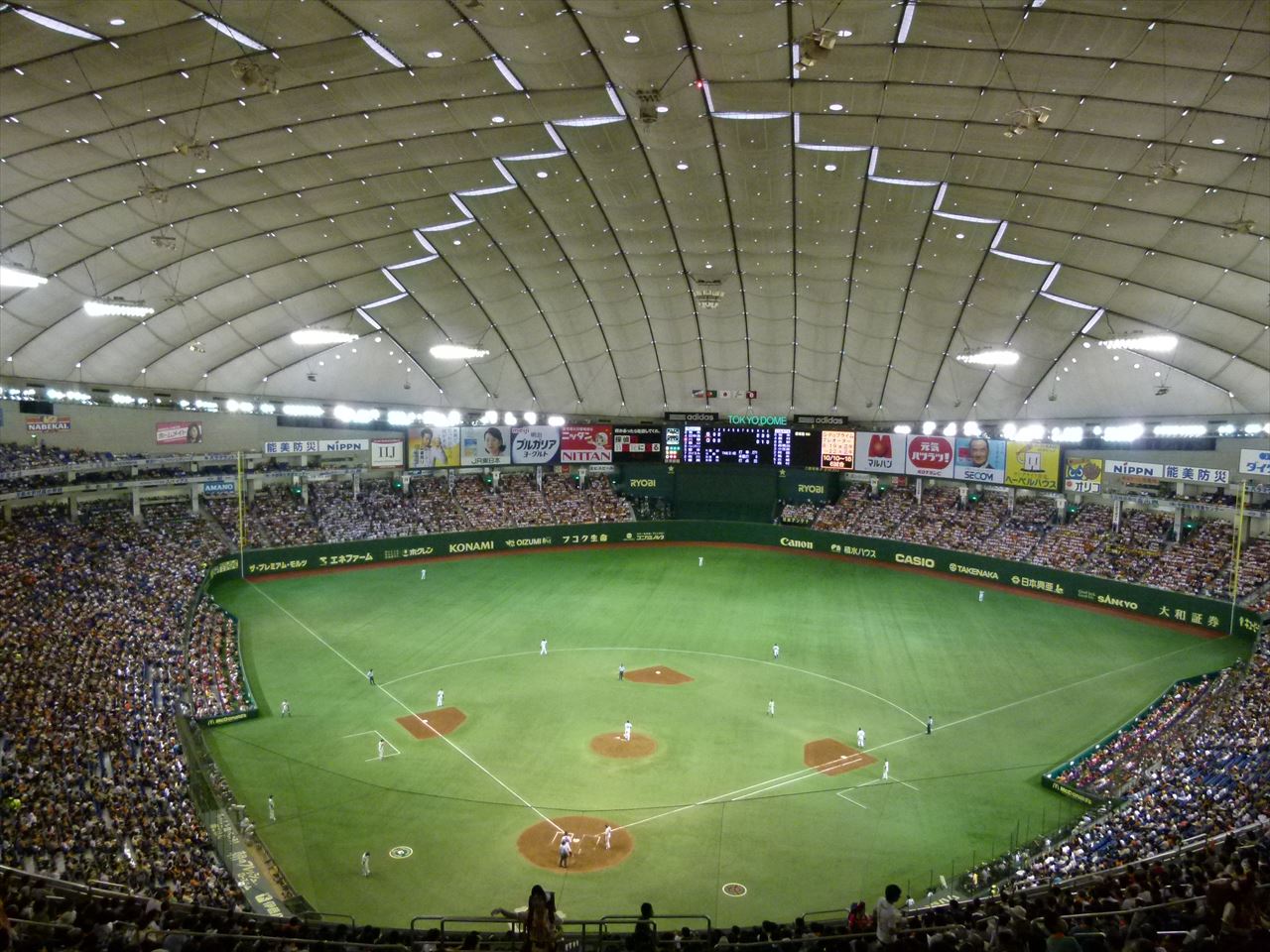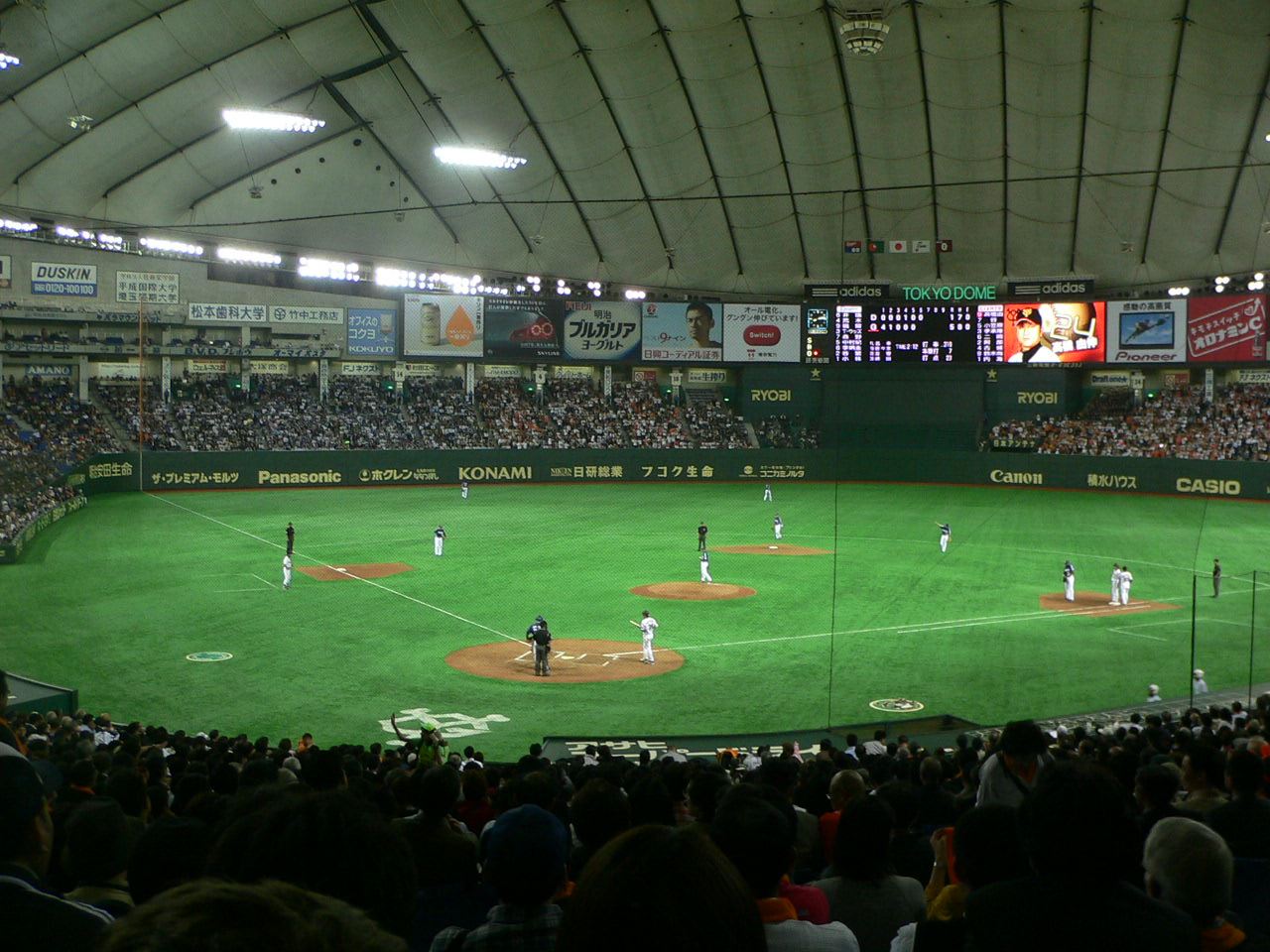 Guest Guide
Permitted & Prohibited Items
Large bags such as backpacks are not allowed at major league and professional sports games in the U.S., but backpacks are allowed at most Japanese professional sports games.
There will be a bag check at the entrance.
Cans, bottles, firearms and swords, hazardous materials, pets (except for service dogs), etc., are prohibited. Small plastic water bottles are allowed to bring into Tokyo Dome (Frozen bottles and bottles larger than 1000ml are not allowed). Some stadiums do not allow plastic water bottles of all kinds and food and drinks from outside the stadium.
Gates/Opening Time
For Yomiuri Giants games:
All gates open 120 minutes prior to the start of the scheduled first pitch. Gate times are subject to change without notice.
Re-Entry
You can only re-enter through a few designated gates for re-entry. You have to have your hand stamped at the counter before going out of the stadium.
Explore Tokyo
Travel Tips & Information
Here is the basic information about Tokyo as a reference for planning your trip.
In a big city like Tokyo, there are just too many options for transportation, hotels, sightseeing attractions, restaurants, and so on. If you let us help you, we can suggest some travel plans that suit your purpose, taste, and budget. Please feel free to contact us.
1. "Getting there & Around" Tokyo 23 Special Ward Area:
Shibuya, Shinjuku, Chuo, Chiyoda, Bunkyo, Minato
We have divided the venues in Tokyo into areas to present them to you regionally, but when it comes to getting around within the 23 wards of Tokyo, no matter where you are staying, it is relatively easy to get anywhere. The Yamanote Line loops through the Tokyo metropolitan area, the Chuo and Sobu Lines run east-west, and the Keihin-Tohoku Line runs north-south. Subways and private railways also cover the entire 23 wards of Tokyo, making it very convenient. It is a good idea to use a smartphone to look up transit information as you move around.
2. "Where to Stay" in the Tokyo 23 Special Ward Area:
Shibuya, Shinjuku, Chuo, Chiyoda, Bunkyo, Minato
This area is the heart of Tokyo. There is a large selection of hotels, from luxurious hotels to business hotels, so you can choose the one that best suits your needs. Hotels in this area are relatively expensive compared to the rest of Tokyo's 23 wards.
3. "What to Do & See" in the Tokyo 23 Special Ward Area:
Shibuya, Shinjuku, Chuo, Chiyoda, Bunkyo, Minato
There are so many things to do and see in Tokyo, especially in this area, that it's hard to narrow it down to just a few. The Meiji Shrine, Harajuku, Shibuya Crossing, Shinjuku Gyoen, Imperial Place, Ginza, and many other places are worth visiting.
Japan is a rainy country. Also, depending on the season and weekends, tourist spots in Tokyo and the suburbs can be crowded with people. So, it is a good idea to have a second plan for such situations so that you can enjoy sightseeing without wasting time. Especially if you plan to go sightseeing and the game, it is essential to have a smooth schedule.
4. "What / Where to Eat" in the Tokyo 23 Special Ward Area: 
Shibuya, Shinjuku, Chuo, Chiyoda, Bunkyo, Minato
There is an unbelievable number of restaurants in Tokyo. So it depends on what you want to eat. We can't possibly recommend all of them, so you may want to do your own Internet search or ask your hotel concierge for recommendations. Of course, we can also suggest an itinerary that includes restaurants to suit your tastes. Please feel free to contact us.