Yamaguchi Prefecture connects Honshu and Kyushu.
Yamaguchi Prefecture is the westernmost prefecture of Honshu.
Shimonoseki City in Yamaguchi Prefecture and Kitakyushu City in Kyushu are a short train ride away.
Yamaguchi is home to Renofa Yamaguchi of the J-League, but there are no professional baseball or other sports teams in the prefecture, so if you want to watch a sports game in Yamaguchi, you will have more options if you combine it with Fukuoka or Hiroshima.
The history of the Choshu clan, which played a leading role in the Meiji Restoration, remains in the Hagi area.
There are many sights to see along the sightseeing route from Shimonoseki to Hagi and around Shimane, so please enjoy Yamaguchi Prefecture in all its variety.
Professional Sports Teams in Yamaguchi
The sports team in Yamaguchi Prefecture will be Renofa Yamaguchi FC of the J-League.
The home of the second team of the Hiroshima Toyo Carp is the Hiroshima Toyo Carp Yiu Training Ground in Iwakuni City.
Soccer
Renofa Yamaguchi FC (J League)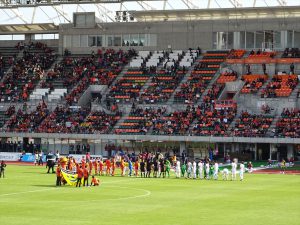 Renofa Yamaguchi FC is a team in the J2 of the J-League.
The team does not have any major titles yet and has not been promoted to J1.
The team won the J3 championship in 2015 and was promoted to J2.
Since then, the team has not been able to break the J2 barrier, but they have been getting stronger little by little, finishing 8th in 2018.
About Yamaguchi Prefecture
The capital: Yamaguchi City
Population: 1.3 million
Airport Yamaguchi-Ube Airport
Shinkansen station: Shin-Iwakuni, Tokuyama, Shin-Yamaguchi, Asa, and Shin-Shimonoseki stations.
Weather in Yamaguchi
It is important to know the climate when preparing for a trip, and the climate of Yamaguchi Prefecture should be kept in mind.
According to the website of the Japan Meteorological Agency, the data from 1981 to 2010 is as follows.
| | | | | | |
| --- | --- | --- | --- | --- | --- |
| Month | Average temperature | The highest temperature | The lowest temperature | Humidity | Precipitation |
| January | 4.1 ℃ | 9 ℃ | 0 ℃ | 76% | 72.3mm |
| February | 5.4℃ | 10.7℃ | 0.8 ℃ | 72% | 84.6mm |
| March | 8.5 ℃ | 14.5 ℃ | 3.1 ℃ | 71% | 153.6mm |
| April | 13.8 ℃ | 20.0 ℃ | 7.8 ℃ | 68% | 172.1mm |
| May | 18.4 ℃ | 24.5 ℃ | 13.1 ℃ | 70% | 200.7mm |
| June | 22.4 ℃ | 27.6 ℃ | 18.1 ℃ | 76% | 306.4mm |
| July | 26.0 ℃ | 31.0 ℃ | 22.3 ℃ | 77% | 323.2mm |
| August | 27.0 ℃ | 32.2 ℃ | 23.0 ℃ | 81% | 171.8mm |
| September | 23.4 ℃ | 28.4 ℃ | 19.3 ℃ | 80% | 181.8mm |
| October | 17.1 ℃ | 23.1 ℃ | 12.1 ℃ | 73% | 79.5mm |
| November | 11.5 ℃ | 17.1 ℃ | 6.7 ℃ | 75% | 82.1mm |
| December | 6.2℃ | 11.7 ℃ | 1.8 ℃ | 77% | 58.7mm |
Venues in Yamaguchi