The J.League (J1 to J3) has the largest number of professional sports stadiums in Japan. There are some unseeded stadiums in charge of this site.
If I can'
t go in the near future, I'll update it as soon as I go.

J
.League stadiums are lying all over the country, with a
large number of stadiums.
Therefore, it is the most rewarding category as an outdoor stad
ium of professional sports.
The stadium of his own cheering team is, of course, home, so it w
ould be eternal number one.
But the journey away to find a great stadium is also a lot of fun. Please come across a wonderful stadium in Japan besides home.
J.League Stadiums
Hokkaido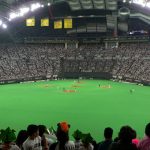 Sapporo Dom
e (Japan)
Location: 062-0045 Yokeoka, Toyohira-ku, Sapporo, Hok
kaido 1
Seating capacity 38,7
94
Home Team Hokkaido Consadole Sapporo
Sta
dium on the Dome Side
Art
ificial g
ras
s

Go to the stadium page
Sapporo Atsutsu Park
Stadium
Location: 004-0033
Uen
ohoro 3-jo 1-chome 2-1, Atsotsu-ku, Sapporo, Ho
kkaido
Seating capacity 17,59
7
Home Team Hokkaido Consadole Sapporo
Natu
ral grass
Aomori Prefecture
Ply Foods Stadium
Locat
ion: 039-2241 Ichikawa, Ichikawa, Located in Hachinohe City, Aomori Pre
fecture 55-1
Capacity: 5,2
00
Home Team Vanlare Hachinohe
Natu
ral grass
Go to the stadium page (the stadium that has not yet been opened)
Iwate Prefecture
Iwagin Stadium
L
ocation: 020-0834 Nagai, Morioka, Iwate 8-65
Seat
ing capacity 4,946
Hom
e Team Iwate Grooja Morioka
Natur
al grass
Go to the stadium page (the stadium that has not yet been opened)
Kita-Kami Sports Park
Lo
cation: 024-0051 Takae-cho, Kita-Kami, Iwate 27-36
Ca
pacity: 22,000
Home Te
am Iwate Grooja Morioka
Natura
l grass
Go to the stadium page (the stadium that has not yet been opened)
Miyagi Prefecture
Yurtec Stadium Sendai
Loca
tion: 981-3131 Nanakitayanagi 78, Izumi-ku, Sendai, Miyagi Pref
ecture
Seating capacity 19,69
4
Home Team Vegalta Sendai
Natu
ral grass
Akita Prefecture
Soyou Stadium
L
ocation: 010-0974 Hachihashi Sports Park, Akita City, Akita 1
-10
Seating capacity 20,12
5
Home Team Braubblitz Akita
Natur
al grass
Go to the stadium page (the stadium that has not yet been opened)
Yamagata Prefecture
ND Soft Stadium Yamagat
a
Location: 994-0000 Sanno, Tendo City, Yamagata 1-1
Seating capacity 20,315
H
ome Team Montedio Yamagata
Natur
al grass
Fukushima Prefecture
Koriyama Western Soccer
Field
Location: 963-0201 Lacquer bar 48, Otsuchi-cho, Koriyama City, F
ukushima Prefecture
Seating cap
acity 3,722
Home Team Fukushima United F.C.
Na
tural grass
Go to the stadium page (the stadium that has not yet been opened)
Toho Everyone's Stadium
Locati
on: 960-2158 Baraji Shintoji, Fukushima City, Fukushima Prefe
cture 1
Seating capacity 21,
000
Home Team Fukushima United F.C.
Natu
ral grass
Go to the stadium page (the stadium that has not yet been opened)
Aizu Sports Park Aizu Athletic Stadium

Location: 965-0826 Located in Uchimiyama Murakami, Kadota Town, Aizu Wakamatsu City
, Fukushima Prefecture
Capaci
ty 7,300
Home Team Fukushima United F.C.
Nat
ural grass
Go to the stadium page (the stadium that has not yet been opened)
Ibaraki Prefecture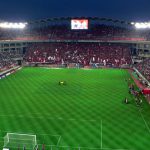 Kashima Soccer Stadium, Ibaraki Prefe
cture
Location: 314-0007 Goyama 26-2, Oji Jinkaji Temple, Kashima City, Ibara
ki Prefecture
Seating capacity
40,728
Home Team Kashima Antlers
Nat
ural grass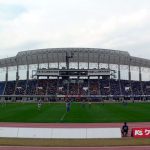 Kesdenki Stadium Mito
Location: 310-0914 Kobuki, Mito, Ibaraki 2058-1
Capacity: 12,000
Hom
e Team Mito Hollyhock
Natura
l grass
Tochigi Prefecture
Tochigi Green Stadium
Locat
ion: 321-3231 Kiyohara Industrial Park, Utsunomiya City, Tochigi Pre
fecture
Seating capacity 18,0
25
Home Team Tochigi SC
Nat
ural grass
Kanseki Stadium and Chigi
L
ocation: 321-0152 Nishikawada 2-chome, Utsunomiya City, Tochigi Pr
efecture
Seating capacity 25,2
44
Home Team Tochigi SC
Nat
ural grass
Go to the stadium page (the stadium that has not yet been opened)
Gunma Prefecture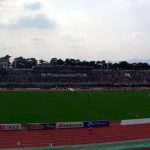 Masada Soy Sauce Stadi
um Gunma
Location: 371-0036 Shirishima, Maebashi, Gunma
66
Seating capacity 15,253
Home Team Zaspaksatsu Gunma
Natu
ral grass
Saitama Prefecture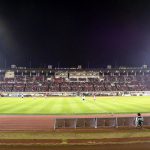 Urawa Komaba Stadi
um
Location: 330-0051 Komaba 2-chome 1-1, Urawa-ku, Saitama City, Sait
ama Prefecture
Capacity: 2
1,500
Home Team Urawa Red Diamonds
Natu
ral grass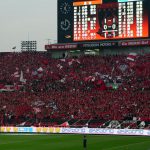 Saitama Stadium 2002
L
ocation: 336-0967 Mien 2-chome, Midori-ku, Saitama, Saitama Pre
fecture
Seating capacity 63
,700
Home Team Urawa Red Diamonds
Natu
ral grass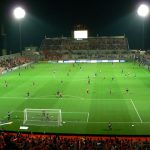 NACK5 Stadium Omiy
a
Location: 330-0803 Takanamachi, Omiya-ku, Saitama 320-52
C
apacity: 15,500
Hom
e Team Omiya Ardija
Natura
l grass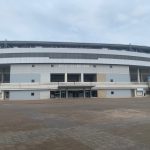 Kumagai Sports and Culture Park Ath
letic Stadium
Location: 360-0004 Kami kawakami 300, Kumagai City
, Saitama Prefecture
Seating ca
pacity 15,392
Home Team Omiya Ardija
Nat
ural grass
Chiba Prefecture
Sankyo Frontea Kashiwa Stadium

277-0083 Hitachidai 1-chome 2-50, Kashiwa City, Chiba Pre
fecture
Seating capacity 15,3
49
Home Team Kashiwa Reysol
N
atural gr
as
s

Go to the stadium page
Fukda Electronic
Arena
260-0835 Kawasaki-cho, Chuo-ku, Chiba, Chiba
1-20
Seating capacity 19,78
1
Home Team Jeff United Chiba
Natura
l grass

G
o to the stadium page
Tokyo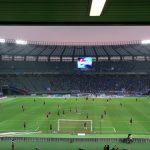 Ajino so Stadium (Tokyo Stadi
um)
Location: 182-0032 Nishimachi, Chofu, Tokyo 37
6-3
Seating capacity 4
9,970
Home Team F.C. Tokyo, Tokyo Verdi 1969
Hybrid Turf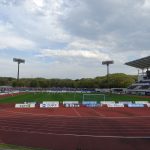 Machida GION Stadium
Location: 195-0063 Nozuda, Machida, Tokyo 2035
Seati
ng capacity 10,622
Home
Team FC Machida Zelvia
Natural
grass

G
o to the stadium page
Ajinoo Field Nishigao
ka
Location: 115-0056 Nishigaoka 3-chome 15-1, Kita-ku, To
kyo
Seating capacity 7,
137
Home Team Tokyo Verdi 1969
Natura
l grass
Kanagawa Prefecture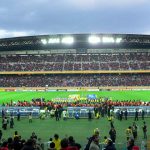 Nissan Stadium (Yokohama International
Stadium)
Location: 222-0036 Kosencho, Minatokita-ku, Yokohama, Kanaga
wa 3300
Seating capacity 72,3
27
Home Team Yokohama F. Marinos
Na
tural gr
ass
Tode force athleti
cs stadium
Location: 211-0052 Nakahara-ku, Kawasaki City, Kanagawa Pref
ecture 1-1
Seating capacity 27
,495
Home Team Kawasaki Frontale
Nat
ural grass
Shonan BMW Stadium Hiratsuka
Locati
on: 254-0074 Ohara 1-1, Hiratsuka City, Kanagawa Pref
ecture
Capacity: 15,200
H
ome Team Shonan Bellmare
Natur
al grass
Nippatsu-Santsuzawa Ba
ll Game
Location: 221-0855 Mitazawa Nishimachi, Kanagawa-ku, Yokohama, Kanag
awa 3-1
Seating capacity 15,0
46
Home Team Yokohama FC, Yokohama F. Marinos
Natu
ral grass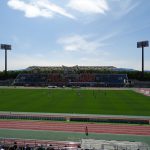 Sagamihara Gion Stadium (Mamizo Park Stadium, Sagamihara C
ity)
Location: 252-0335 Shimomizo 4169, Minami-ku, Sagamihara City, Kana
gawa Prefecture
Capacity: 15,3
00
Home Team SC Sagamihara
Nat
ural grass
Niigata Prefecture
Denka Big Swan Stadium
Loc
ation: 950-0933 Seigoro 67-12, Chuo-ku, Niigata, Niigata Pref
ecture
Capacity: 42,300

Home Team Albirex Niigata
Natura
l grass

G
o to the stadium page
Toyama Prefecture
Toyama Prefectural Sports Park
Athletic Stadium
Location: 939-8234 Minami-Nakata, Toyama, To
yama 368
Seating capacity 25,
251
Home Team Catare Toyama
Natu
ral grass
Ishikawa Prefecture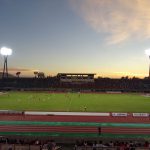 Ishikawa Prefecture Western Green
Park Athletic Stadium
Location: 920-0361 South 136, Bukuro-cho, Kanaza
wa, Ishikawa Prefecture
Capacity
: 20,000
Home Team Twagen Kanazawa
Nat
ural grass
Go to the stadium page
Fukui Prefecture
Technoport Fukui Stadium
Lo
cation: 913-0037 Kurome 22-51-3, Mikuni-cho, Sakai City, Fukui Prefec
ture
Seating capacity 21,053
Home Team Catare Toyama
Natu
ral grass
Go to the stadium page (the stadium that has not yet been opened)
Yamanashi Prefecture
Yamanashi-Chugin S
tadium
Location: 400-0836 Kose,840, Kofu City, Yamanashi
Prefecture
Capacity: 17,00
0
Home Team Vanforet Yamanashi
Natu
ral grass
Nagano Prefecture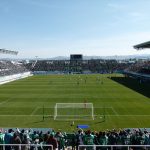 Saint-Pro Alwyn
Locati
on: 390-1243 5300 Edji Kamibayashi, Matsumoto City, Nagano Prefe
cture
Capacity: 20,000
Home T
eam MatsumotoYama Masa F.C.
Natu
ral grass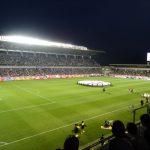 Nagano U-Stadium

Location: 388-8002 Tofukuji Temple, Nagano City, Nagano Prefectu
re 320
Seating capacity 15,4
91
Home Team AC Nagano Parceiro
Natu
ral grass
Gifu Prefecture
Gifu Memorial Center Nagarakawa S
tadium
Location: 502-0817 Yoshimitsu Ohno, Gifu Mayor, Gifu Prefecture
2675-28
Capacity: 30,000
H
ome Team F.C. Gifu
Natur
al grass
Shizuoka Prefecture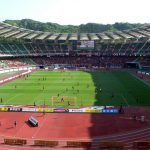 Ogasayama Sports Park Ecopa Stadium
Location: 437-0031 Aino 2300-1, Fukuno City, Shizuoka Prefe
cture
Seating capacity 50
889
Home Team Shimizu S-Pulse, Jubilo Iwata
Nat
ural gras
s

Go to the stadium page
Yamaha Stadium (J
apan)
Location: 438-0025 Shingai 2500, Shibata City, Shizuoka
Prefecture
Seating capacity
15,165
Home Team Jubilo Iwata
N
atural gr
as
s

Go to the stadium page
IAI Stadium Nippondair
a
Location: 424-0926 Muramatsu, Shimizu-ku, Shizuoka, Shizuoka 388
0-1
Seating capacity 20,248
Home Team Shimizu S-Pulse
Natu
ral gras
s

Go to the stadium page
Atsuko Regional Park Multipur
pose Stadium
Location: 410-0001 Ashikaga 202, Numazu City, Shizu
oka Prefecture
Capacity: 10,000

Home Team Asul Claro Numazu
Natural gra
ss
Go to
th
e stadium page (the stadium that has not yet been opened)
Fujieda Sports Park Soccer F
ield
Location: 426-0086 100 Hara, Fujieda City, Shizuoka Pr
efecture
Seating capacity 13,
000
Home Team Fujieda MYFC
Natu
ral grass
Go to the stadium page (the stadium that has not yet been opened)
Aichi Prefecture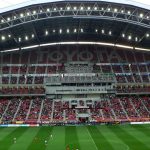 Toyota Stadium
(Japan)
Location: 471-0016 7 chome 2, Chiishi-cho, Toyota Cit
y, Aichi Prefecture
Capacity:
45,000
Home Team Nagoya Grampus
Na
tural gr
as
s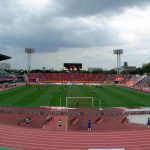 Paloma Mizuho Stadiu
m
Location: 467-0062 Yamashita-dori 5-chome 1, Mizuho-ku, Nagoya, A
ichi Prefecture
Capacity: 27
,000
Home Team Nagoya Grampus
Nat
ural gra
ss
Kyoto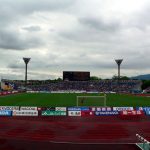 Takebisse Stadium Kyo
to
Location: 615-0864 Nishikyogun Shinmeicho, Ukyo-ku, Kyoto,
Kyoto 29
Seating capacity
20,588
Home Team Kyoto Sanga F.C.
Natural
g
rass
Go to the stadium page
Sanga Stadium by KYOCERA
Locat
ion: 621-0804 Oyoka, Kameoka, Kyoto
Se
ating capacity 21,60
0
Home Team Kyoto Sanga F.C.
Natural
gra
ss
Go to the stadium page (the stadium that has not yet been opened)
Osaka Prefecture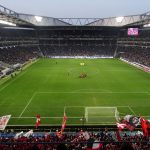 Panasonic Stadium Suita
Loca
tion: 565-0826 Senri Expo Park, Suita City, Osaka 3-3
Sea
ting capacity 39,694
Home
Team Gamba Osaka
Natura
l grass

G
o to the stadium page
Yanmar Stadium Nagai
L
ocation: 546-0034 Nagai Park, Higashi-Sumiyoshi-ku, Osaka, Osaka
1-1
Seating capacity 15,516
Home Team Cerezo Osaka
Natu
ral grass
Hyogo Prefecture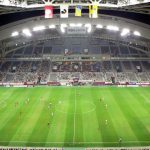 Noebia Stadium Kobe (Misaki Park Stadium, Kobe Ci
ty)
Location: 652-0855 Misaki-cho 1-chome 2-2, Hyogo-ku, Kobe, Hyogo P
refecture
Seating capacit
y 30132
Home Team Vissel Kobe
Na
tural gra
ss
Tottori Prefecture
Axis Bird Stadium
Locati
on: 680-1141 Kurata 423, Tottori City, Tottori Prefect
ure
Seating capacity 16,033
Home Team Gainale Tottori
Natu
ral gras
s

Go to the stadium page
Chub YAJIN Stadium
Location
: 683-0846 Abe 1-1, Yonago City, Tottori Prefecture

Seating capacity 7,390
H
ome Team Gainale Tottori
Natur
al grass
Go to the stadium page (the stadium that has not yet been opened)
Okayama Prefecture
City Light Stadium

Location: 700-0012 Izumi-cho, Kita-ku, Okayama 2-1-11
Cap
acity: 20,000
Home Tea
m Fagiano Okayama F.C.
Natural g
rass
Hiroshima Prefecture
Edion Stadium Hiroshima
Lo
cation: 731-3167 Otsuka Nishi 5-chome 1-1, Asan-ku, Hiroshima, Hiroshima P
refecture
Seating capacity 3
6,894
Home Team Sanfrecce Hiroshima
Na
tural gr
as
s
Yamaguchi Prefecture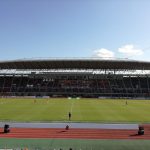 Ishin-Irafu Stadium

Location: 753-0815 Ishin Park, Yamaguchi, Yamaguchi 1-1
Ca
pacity: 20,000
Home Team
Lenofa Yamaguchi F.C.
Natural
grass

G
o to the stadium page
Saving Athletic Stadium (Shimoseki Athletic St
adium)
Location: 750-0041 1 chome 10-1, Myoyo-cho, Shimonoseki City, Yamaguch
i Prefecture
Seating capacity 23
,939
Home Team Lenofa Yamaguchi F.C.
Nat
ural grass
Go to the stadium page (the stadium that has not yet been opened)
Tokushima Prefecture
POCARI SWEAT Stadium
Locat
ion: 772-0017 Four rocks in Yoyo Town, Naruto City, Tokushima
Prefecture
Seating capacity
17,924
Home Team Tokushima Vortis
N
atural gr
as
s
Kagawa Prefecture
pikara Stadium (Kagawa Prefectural Marugame Stadium)
Location: 763-0053 Kanakura- 830, Marugame City, Kagawa Prefect
ure
Seating capacity 30,099
Hom
e Team Kamatamare Sanuki
Natural grass
Go to t
he
stadium page (the stadium that has not yet been opened)
Ehime Prefecture
Ninginia Stadium
Loc
ation: 791-1136 Ono-cho Oto 46, Matsuyama City, Ehime P
refecture
Capacity: 20,000

Home Team Ehime F.C.
Natu
ral gras
s

Go to the stadium page
Thank you service. Yume Stadium (Ja
pan)
Location: 794-0067 Takahashi Fureai no Oka, Imabari City, Ehime
Prefecture
Capacity: 5,00
0
Home Team FC Imabari
Natu
ral grass
Go to the stadium page (the stadium that has not yet been opened)
Fukuoka Prefecture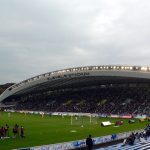 Best Electric Stadium (Toheio Park Hakata no Mori Stadi
um)
Location: 816-0052 Higashihirao Park 2-chome 1-1, Hakata-ku, Fukuoka, Fukuok
a Prefecture
Seating capacity
22,563
Home Team Avispa Fukuoka

Natural g
ra
ss

Go to the stadium page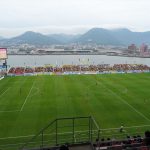 Mikuni World Stadium Kitakyus
hu
Location: 802-0001 Asano 3-chome, Kokurakita-ku, Kitakyushu, Fuku
oka 9-33
Capacity: 15,300

Home Team Giravanz Kitakyushu
Nat
ural gra
ss
Saga Prefecture
Real Estate Stadium in front of the statio
n (Tosu Stadium)
Location: 841-0034 Kyomachi, Tosu City, S
aga Prefecture 812
Capacity:
24,130
Home Team Sagan Tosu
N
atural gr
as
s

Go to the stadium page
Nagasaki Prefecture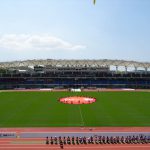 transcosmos Stadium Nagasak
i
Location: 854-0061 Uto,Isahaya, Nagasaki 27-1
Seat
ing capacity 20,246
Home
Team V. Farren Nagasaki
Natural
grass

G
o to the stadium page
Kumamoto Prefecture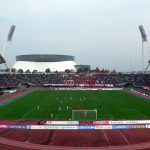 Ego Health Stadium (Kumamoto Prefectural Sports Park Athle
tic Stadium)
Location: 861-8012 Hirayama, Higashi-ku, Kumamoto, K
umamoto 2776
Capacity: 32,00
0
Home Team Roasso Kumamoto
Na
tural gra
ss
Oita Prefecture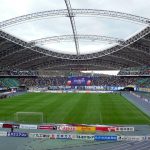 Showa Denko Dome Oita (Oita Sports Park Stadiu
m)
Location: 870-0126 Ooji Yokoo 1351, Oita City, Oita P
refecture
Capacity: 40,000
Home Team Oita Trinita
Natur
al grass
Kagoshima Prefecture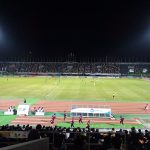 Hakuba Stadium
Location: 890-0062 Yojiro 2-chome 2-2, Kagoshima City, Kagoshima Pr
efecture
Seating capacity 1
9,934
Home Team Kagoshima United F.C.
Nat
ural gra
ss
Okinawa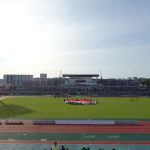 Tapic County So-Hiyoron Stadium
Location: 904-2173 Hi-Roof 5-chome 3-1, Okinawa City, Okinawa
Prefecture
Capacity: 25,000
Home Team FC Ryukyu
Natu
ral grass