Edion Stadium Hiroshima is the home of the J League team, Sanfrecce Hiroshima. In the 2012 season, Sanfrecce Hiroshima won the championship for the first time on their home turf. The stadium has also hosted international events such as the 1992 AFC Asian Cup and the 1994 Asian Games.
Getting to the Stadium
Edion Stadium Hiroshima is located in the northwestern part of Hiroshima City and is conveniently accessible from Hiroshima City using the Astram Line(AGT).
On game days, the roads around the stadium are very congested, so if you are coming from downtown Hiroshima, we recommend using the Astram Line.
By Astram

From Hondori Station in Kamiyacho, take the 37-minute Astram to "Koiki- Koen-Mae Station," which is about a 10-minute walk to Edion Stadium Hiroshima. From the Hiroshima Peace Memorial Park area, use Hondori Station, and from the Hiroshima Castle area, use Kencho-mae Station or Johoku Station. The fare from Hondori Station and Kencho-mae Station is 490 yen each way, and 450 yen from Johoku Station. On the day of a Sanfrecce Hiroshima game, a "Sanfrecce Cheering Ticket" that allows unlimited rides for 630 yen for adults and 320 yen for children is available from four hours before kickoff. You can see the stadium from the Astram train, so you won't get lost from Koiki-Koenmae Station.
By Bus
Bus Route #1
From the bus stop at the south exit of Hiroshima Station, two direct buses to Edion Stadium are available by reservation only on weekends and national holiday game days. The bus fare is 1,600 yen for adults and 800 yen for children.
The first bus departs three hours prior to kickoff, and the second bus departs 90 minutes prior to kickoff.
*This information is for the 2020 season, so please check the official website of Sanfrecce Hiroshima for details.
Bus Route #2
On game days, direct shuttles to the stadium are available from bus stop No. 4 at Yokogawa Station, two stops next to Hiroshima Station, every 10 minutes starting four hours before kickoff.   The trip takes about 20 minutes and the fare is 380 yen for adults and 190 yen for children.
Car
It is about a 20-minute drive from the center of Hiroshima City.
For more information about parking, please visit the official website of Sanfrecce Hiroshima for details.
About the Stadium
Edion Stadium Hiroshima is surrounded by mountains and the weather is changeable. The arched roof of the "Big Arch" only covers part of the main stand side, so you might want to pack rain gear and sunscreen in the summer just in case.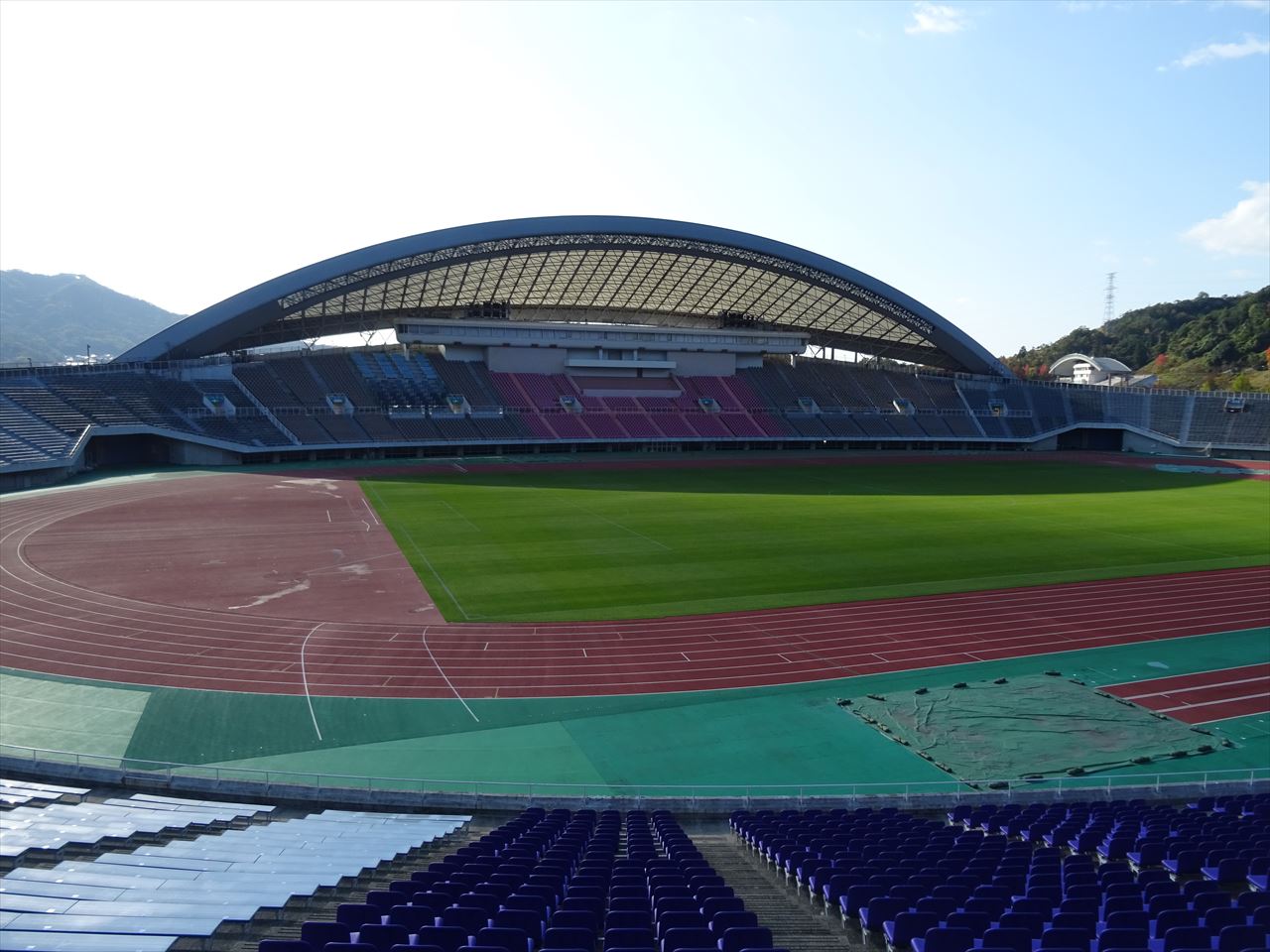 Location 1-1, Otsuka-nishi 5-chome, Asaminami-ku, Hiroshima City, Hiroshima, 
Capacity: 36,894
Home team Sanfrecce Hiroshima
Surface: Natural grass
Opened: September 1992
Explore Hiroshima
Travel Tips & Information
Here is the basic information about Hiroshima as a reference for planning your trip.
1. "Getting there & Around" Hiroshima
If you are traveling to Hiroshima from the Tokyo, Osaka, or Nagoya area, take the Tokaido/Sanyo Shinkansen; if you are traveling to Hiroshima from the Fukuoka area, take the Kyushu/Sanyo Shinkansen. This section provides information on how to get to the Hiroshima, Miyajima, and Kure areas, as well as transportation options in Hiroshima City.
2. "Where to Stay" in Hiroshima
Hotels in the Hiroshima, Miyajima, and Kure areas.
3. "What to Do & See" in Hiroshima
Hiroshima City has many tourist attractions such as the Atomic Bomb Dome and Hiroshima Peace Memorial Park etc. Miyajima can be reached from Hiroshima by taking a local train to Miyajima-guchi and then taking a ferry. Kure is home to the Battleship Yamato Museum. Kure is about 30 minutes from Hiroshima by rapid train. Here are a few tourist attractions in the Hiroshima-Miyajima-Kure area.
4. "What / Where to Eat" in Hiroshima
Hiroshima-style okonomiyaki is a famous gourmet food throughout the country. Depending on the season, there are also delicious oysters that you can only taste here. Hiroshima is also known for its famous souvenirs such as Momiji Manju (A bun stuffed with red bean paste.) Here are a few restaurants we recommend in the Hiroshima, Miyajima, and Kure areas.