Tapic Stadium Nago is a baseball stadium located in Nago City.
This is where the Nippon Ham Fighters hold their spring training camp.
The Nippon-Ham Fighters have been camping here for a long time, and Tapic Stadium Nago is a new stadium that was rebuilt in 2020.
Getting to the Stadium
The location of Tapic Stadium Nago is about 80 kilometers from the Naha Airport area, which is about an hour and a half drive away.
Although there is a bus service from Naha Airport to Nago Bus Terminal, there are not many hotels around the stadium. It is not always possible to get a reservation at a hotel that is within walking distance to the stadium during the camping season, so basically, the location means that you will need a car to access this stadium.
The parking lot of the stadium is not expected to be available during the camp.
When the camp is held in 2020, a special parking lot will be built at Nago Fishing Port, and a free shuttle bus will run between 8:30am and 4:30pm.
About the Stadium
The ballpark is located in a park, and the park has separate areas for the bullpen area and the stadium for games.
The ballpark has a partial roof behind the back net.
Location: 2-1 Miyazato, Nago City, Okinawa 905-0011, Japan
Seating Capacity: 7,300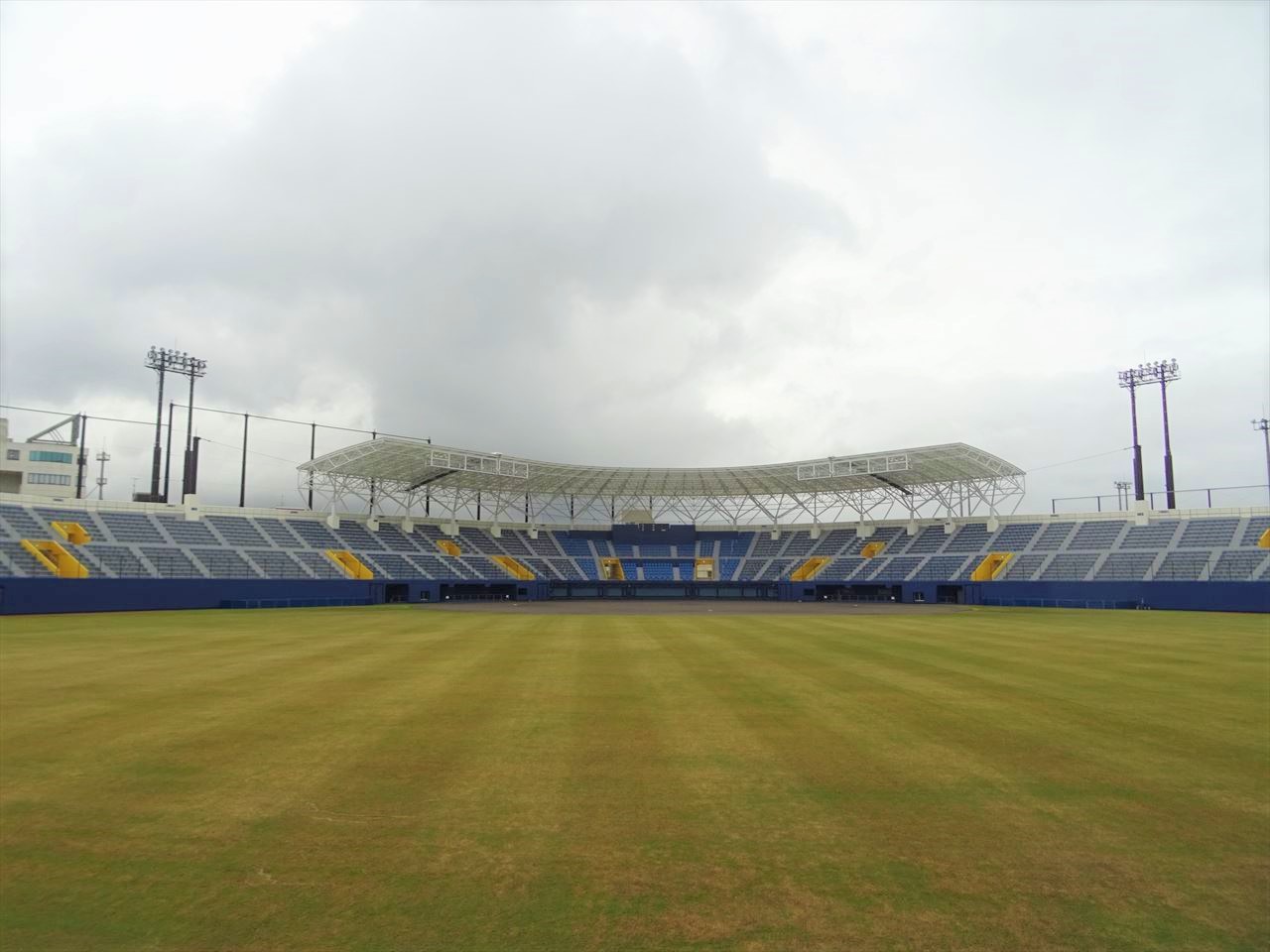 Explore Northern Okinawa
Learn about transportation, sightseeing, and food in Okinawa
Before your trip, we have compiled some basic information about Okinawa Prefecture for your reference.
About professional sports teams in Okinawa
1.Getting There & Around Northern Okinawa
To get to Okinawa by air, it takes about 2 hours 45 minutes to 3 hours from Haneda Airport to Naha Airport, and 2 hours 20 minutes to 2 hours 30 minutes from Kansai Airport to Naha Airport.
From Naha Airport, Nago City and the northern area is about 100 to 120 kilometers away, depending on the location of the airport.
From the airport, you can take a bus directly to the Churaumi Aquarium, but for other areas, you will need to rent a car.
2."Where to Stay" in Northern Okinawa
If you are planning to watch the games or sightsee around Nago City and the northern area, you can either stay near the various tourist spots, including the beach, or if you rent a car, you can use Naha as a base since there are relatively more options.
We have picked up hotels mainly in Nago City and the northern area.
3."What to Do & See" in Northern Okinawa
The Churaumi Aquarium is going to be the most popular tourist attraction in Nago City and the northern area.
Near the aquarium are the ruins of Nakijin Castle, a World Heritage Site.
The following is a selection of tourist spots in Nago City and Northern Area.
4."What / Where to Eat" in Northern Okinawa
Okinawa soba, taco rice, bitter melon stir-fry, and steak are just a few of the specialties you can enjoy. If you are a drinker, Awamori will be one of the major attractions. Here is a list of Okinawa's gourmet foods and stores in the city.